Adobe offers multiple programs that help creatives around the world to carry out their projects, it is the favorite brand and most used internationally. This time we find the Creative Types quiz sponsored by Adobe in which it tells you what type of creative you are.
Adobe brought together a team of creatives to create this game, that through 15 psychological questions gives you a simple assessment of your creative personality, easy to relate to but with a solid foundation in science. The questions were elaborated by the expert in psychological research and test creator for the same branch, Carolyn Gregoire.
The eight creative personalities are 'The artist', 'The thinker', 'The adventurer', 'The manufacturer', 'The producer', 'The dreamer', 'The innovator' Y 'The visionary'.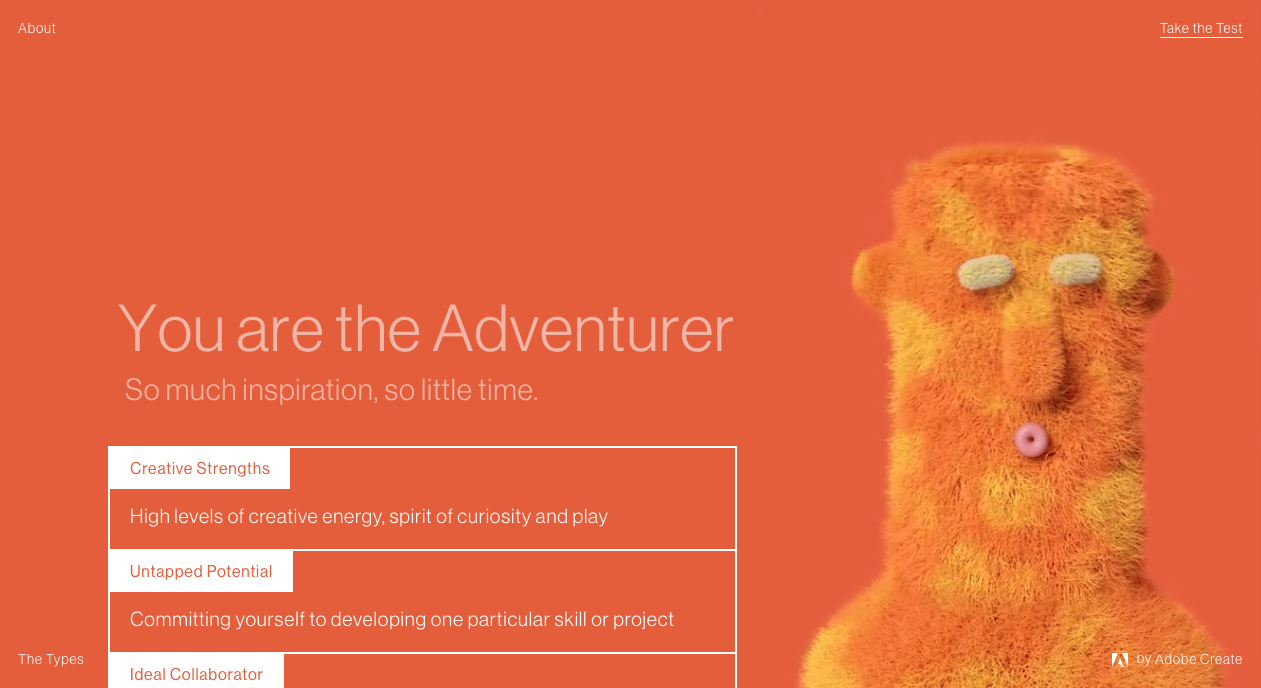 Related news:
5 online games to improve your graphic design skills
Mattel will launch the minimalist version of UNO
#Unmissable: Video explains the more than 50 Adobe applications
The creative work for this Adobe Quiz is what stands out in each of the areas of this website. The following experts worked on the visual part of the project: the web design was carried out by the designer Daniel Powell; Anton Hjertstedt was in charge of the 3D design of the eight characters; Isabel + Helen he was in charge of creating the scenarios that appear between the transitions of each question; Brendan Baker Y Daniel Evans They took care of recording, photography and editing the transitions between questions.
null

null
You can do this Adobe quiz for free by clicking here.