In the face of the Covid-19 outbreak in the country and the activation of Phase 2 of the coronavirus this Tuesday, March 23, one of the indications that is most required to be implemented -in addition to constantly washing your hands- is the Healthy Distance. Many brands have applied this trend to their logos and now the Government of Mexico is also joining. Healthy Government Distance
With #SanaDistancia but united and united by the same objective: to take care of ourselves. #UnitedMexico🇲🇽 pic.twitter.com/FZClxtR8gb

– Ministry of Culture (@cultura_mx) March 24, 2020
The Government of Mexico modified its graphic image, marking the healthy distance Among the 10 historical figures who star in it, they also added #SanaDistancia.
This type of redesign seeks to create awareness among the inhabitants of the country to take seriously the issue of staying away from each other and preferably at home, but in many cases this is not possible, so the answer is healthy distance.
In its history, Mexico has faced many adversities and has always come out ahead, thanks to the unity of the Mexicans. In days of #SanaDistancia, we take care of each other. Cohesion and mutual support keeps Mexico together and healthy. pic.twitter.com/2FgC3FcCr8

– Jesús Ramírez Cuevas (@JesusRCuevas) March 24, 2020
Related Notes:
The challenge for illustrators begins # CuarentenaDeIlustration, are you going to enter?
Graphic design and its importance in the fight against the coronavirus
Coca-Cola and Audi also redesign their logo to combat Covid-19
Successes and errors of Susana Distancia, brand character of COVID-19
Healthy Government Distance
The account of the heroine Susana Distancia created by the Government of Mexico came to light during the heavy week and today accumulates more than 27 thousand followers on Twitter: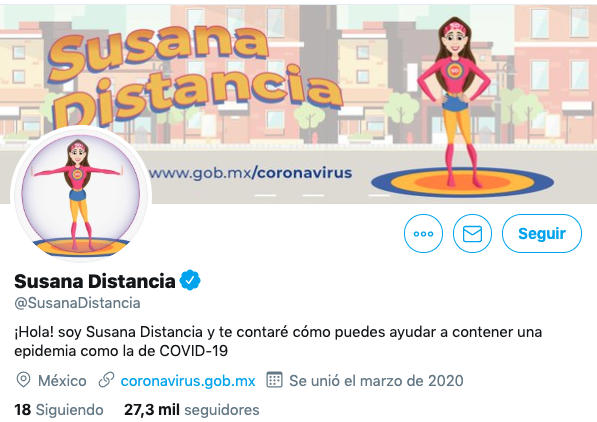 The first success that the Federal Government had when implementing Susana Distancia is undoubtedly the brand character. An animated character translates into a friendlier vehicle to convey messages on a topic that alone is capable of generating high levels of concern.
With these characters it is possible to connect emotionally and more closely with the target audiences, improving the effectiveness of their marketing and communication actions.
Among the flaws that can be found in this strategy is that it lacks a good positioning, it is not a lie that the character became more known through memes. In addition, Susana Distancia's account is not verified, which reduces its credibility.