Young British designer William Gibson – we call him young by 17 years of age – created a website which generates hand washing posters synchronized with the times of your favorite song. This with the aim of carrying out a good hand washing and preventing people from contracting respiratory diseases such as the flu or the Coronavirus, COVID-19.
🎶 I made a little site in 24h that generates hand washing instructions accompanied by lyrics from a song of your choice instantly – check it out!

🔗 https://t.co/JKAQRYy5Yz pic.twitter.com/S1bDLyKt6C

– william ⚡️ (@neoncloth) March 8, 2020
For your personalized poster with your favorite song to come out, you just have to enter the name of the song and the artist who performs it, and that's it. The resulting poster shows how to properly wash your hands with soap or gel, using step-by-step images on the line of the song you chose.
Related news:
posters to wash your hands coronavirus
Vintage posters created to help fight Coronavirus
In 10 days China builds hospital against coronavirus
Architect designs shield to protect against Coronavirus
In the example that we put below we choose the song DARE from the Gorillaz group and according to the custom infographic, washing our hands with soap and water should last 45 seconds just at the end of the phrase "Jump with them all and move it" .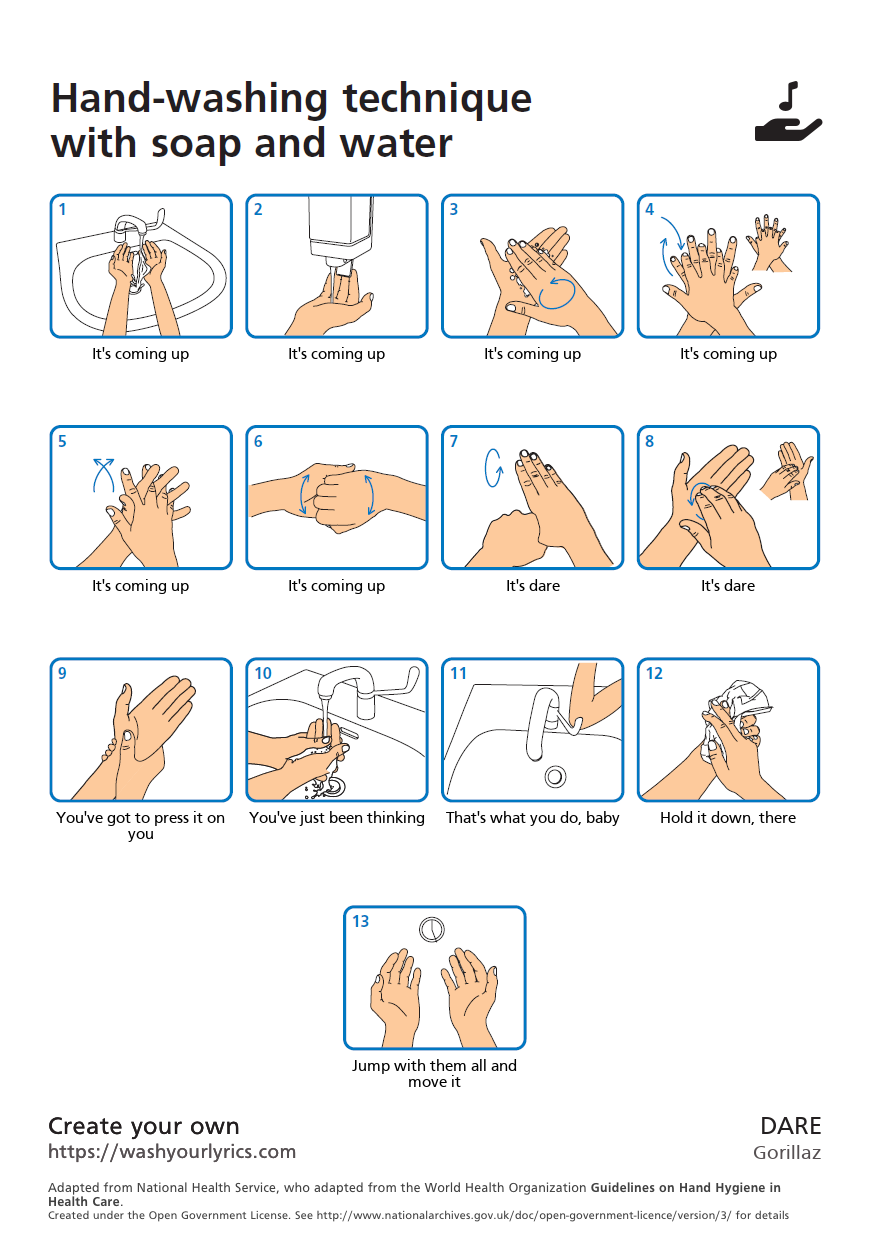 The posters generated by the Wash Your Lyrics website are much more attractive compared to the institutional posters that have been created in the world, that even Netflix, YouTube, MTV and Miley Cyrus tweeted their own poster.
Oh honey, I'll do anything for you.

So wash your hands. pic.twitter.com/aT4FcFX1Df

– Netflix US (@netflix) March 10, 2020
I'm gonna take my hands down to the old town road, I'm gonna wash til I can't no more 🤠👏 @lilnasx @neoncloth pic.twitter.com/FdCLkjU1IP

– YouTube (@YouTube) March 10, 2020
Here's how to wash your hands to #FineLine by @Harry Styles: pic.twitter.com/YLffGXnNzj

– MTV (@MTV) March 9, 2020
wash your damn hands. #WashYourLyrics pic.twitter.com/hXF0HPrWi3

– Miley Ray Cyrus (@MileyCyrus) March 10, 2020
posters to wash your hands coronavirus