The sports shoe brand Adidas, In collaboration with EA Sports Y Jacquard Google launched the new templates Adidas GMR that allow to connect the statistics of performance in soccer of the users in real life with those of virtual reality in a video game EA Sports FIFA. Being this product the debut of the German brand in eSports (electronic sports).
Adidas announced this launch on their social networks with an advertising spot in which virtual reality is combined with the real life of soccer fans through its templates Adidas GMR, which we leave you below:
Play connected.

Introducing #adidasGMR, a brand-new innovation created in partnership with @EAFIFAMOBILE and Jacquard ™ by @GoogleATAP.

Enabling you to impact your game, through real-world play.

Exclusively available now: https://t.co/TCDkwkjI4J pic.twitter.com/1kHiakwEpz

– adidas Football (@adidasfootball) March 10, 2020
These templates, which will surely have a great impact on the gaming world, record all the movements that a player makes on the court: running, passing the ball and receiving it, shooting at the goal, etc. Movements that translate into performance data that FIFA Mobile encode to imitate real movements in a video game.
Related news:
Pantaleta created to protect women from sexual violence
LEGO announces collaboration with Super Mario at # MAR10Day
5 design documentaries available on Netflix to fuel your creativity
The GMR templates They can be placed on any type of footwear and allows users of the FIFA-mobile version game to complete challenges on the street or on the soccer fields that unlock rewards within the video game, in addition to transferring the user's performance statistics to customize their teams and compete on leaderboards.
How do Adidas GMR templates work?
Using a chip developed by Jacquard Google templates measure all your movements, this device fuses everything you do on the field with the virtual reality of the EA Sports FIFA video game.
The Jacquard Tag is equipped with a gyroscope, an accelerometer and a small processor compatible with machine learning devices that detect specific soccer movements.
To synchronize them comes a very clear explanation in the following image taken from the Adidas website.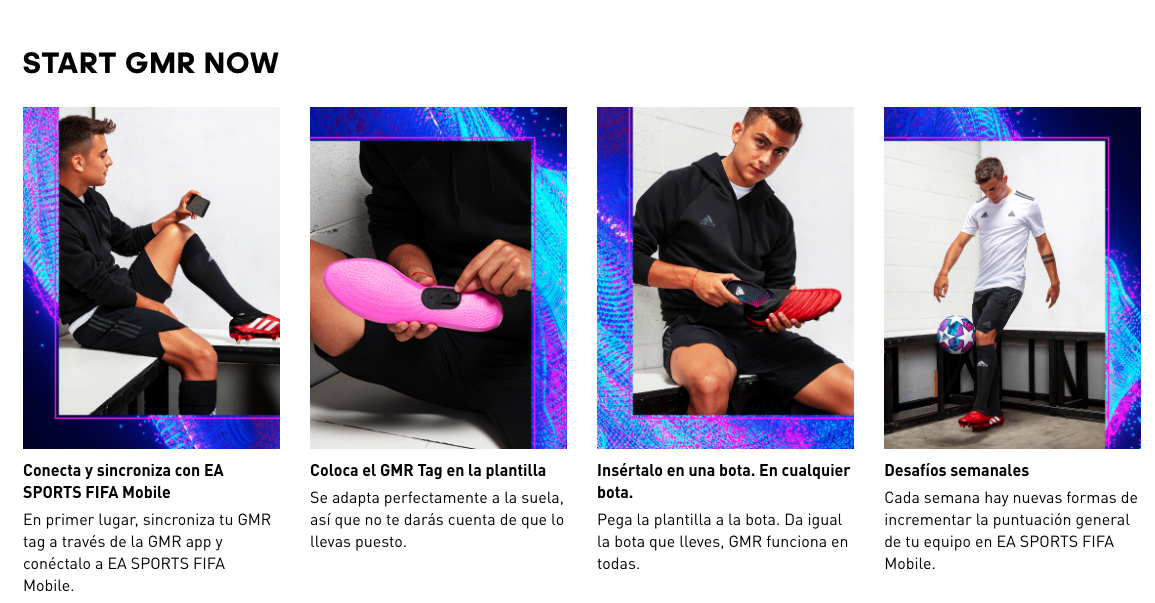 Templates Adidas GMR They are already available in some countries of the world and on their website for a small price of $ 40.
Nike and its firm step in eSports
Although the Nike brand does not have such a bombastic technology as the one that Adidas has just introduced, it remains firm in the world of electronic sports, since this year it has already signed with two of the great eSports clubs.
One of them is "T1" the most popular team of League of Legends in the world, which will have facilities sponsored by Nike.